NASA Astronomy Picture of the Day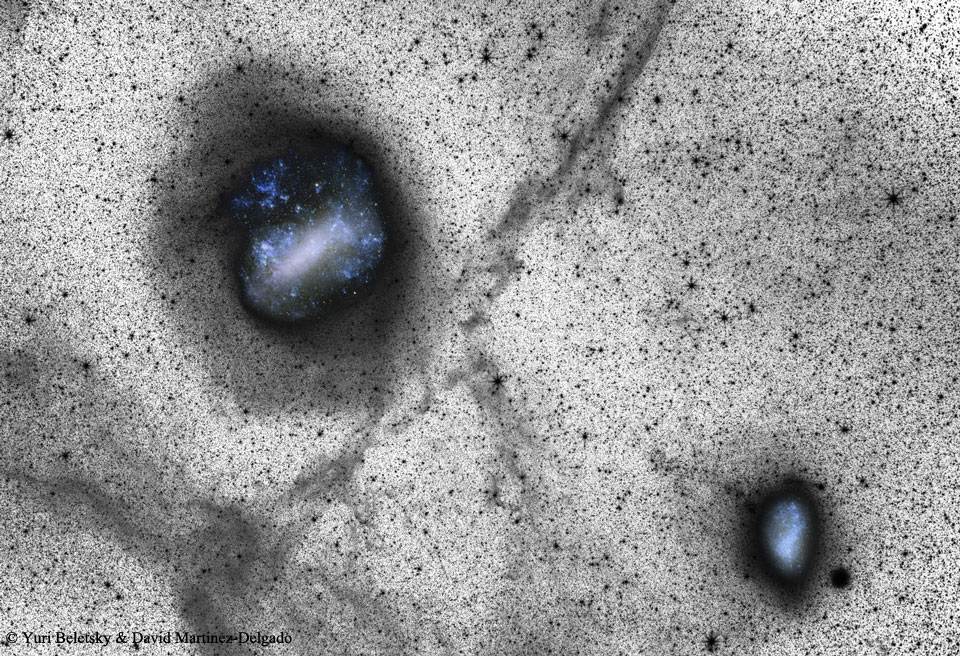 Deep Magellanic Clouds Image Indicates Collisions

What's Up - Week of 25th July
Astronomical Twilight ends at 00.14 BST at the start of the week and at 00.45 BST at the end


The Moon is waning and will be Last Quarter on Tuesday


The Sun is almost blank again


The ISS returns with evening passes: Tuesday 21.56.24 S to ESE reaching 13 degrees and 23.30.42 SW to E to 49 degrees. Wednesday 22.38.03 SW to E to 34 degrees. Thursday 21.45.38 SSW to E to 23 degrees and 23.21.06 WSW to E to 73 degrees. Friday 22.28.16 WSW to E to 54 degrees . Saturday 21.35.34 SW to E to 38 degrees and Sunday 22.18.42 WSW to E to 78 degrees and 23.55.09 W to E to 89 degrees


There are no bright evening Iridium flares this week
More...
Random Blackett Image
The 2004 October Lunar eclipse, when the Earth's shadow cuts off sunlight from the face of the full Moon. The red colour is due to refraction of sunlight through the Earth's atmosphere, effectively a projection of all the sunsets on Earth. (Venturin)
News - 29th June
National Astronomy Meeting: CEB was invited to speak at the Education and Outreach lunch in Nottingham at NAM 2016. The talk was on the new GCSE 2017 Astronomy Specification
18th June
Solstice observing: A small group of Friends gathered in the summer twilight to watch 3 planets appear. Despite the nearly Full Moon, Mars shone brightly in the South and Jupiter in the West. Saturn was rather close to the Moon and dimmer. Red Antares twinkled in the thick lower atmosphere with blue Spice in the South West. The Moon was observed in the ETX and then Jupiter. The 10 inch tracked Saturn as as the sky darkened first Tutan then Tethys then Dione appeared. A good Summer Sky tour was also possible.
More news...