NASA Astronomy Picture of the Day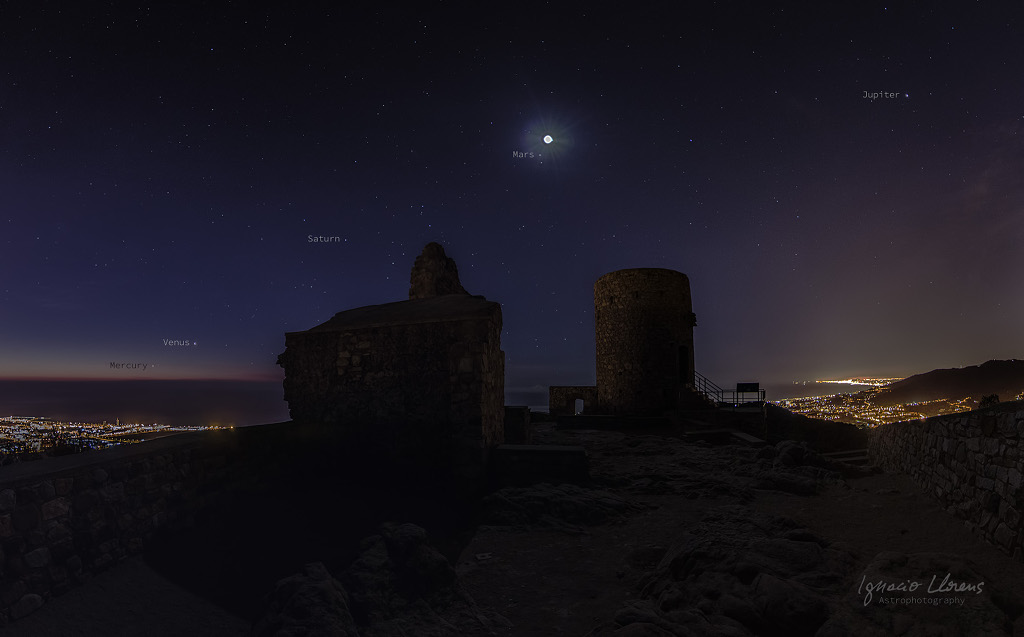 Five Planets at Castell de Burriac
What's Up - Week of 1st February
Astronomical twilight ends at 18.48 UT at the start of the week and at 18.59 UT at the end


The Moon will be New next week


The pre-dawn planetary alignment continues and the waning Moon joins them, working its way towards the Sun. It will make Conjunctions with Mars on Monday, Saturn on Wednesday and Venus (which is closing with Mercury) on Saturday


Comet C/2013 US10 Catalina is currently near Polaris in Camelopardalis about half way from UMa to Cassiopeia, thus almost due N


The Sun has 3 spot groups, none of which is currently active


The ISS (with Tim Peake on board) returns with evening passes this week: Tuesday at 19.38.49 from SW to SSW reaching 12 degrees altitude. Wednesday 18.46.55 SSW to SSE to 21 degrees. Thursday 17.55.29 S to ESE to 14 degrees and 19.29.57 SW to SW to 26 degrees. Friday 18.37.42 SW to ESE to 35 degrees and 20.13.44 W to W to 12 degrees. Saturday 17.45.41 SSW to E to 24 degrees and 19.21.16 WSW to WSW to 50 degrees and Sunday 18.28.50 WSW to E to 57 degrees and 20.05.11 W to W to 18 degrees


There are no particularly bright evening Iridium flares this week
More...
Random Blackett Image
Sunrise 26.1.05
News - 31st January
House visit: 10 pupils from TU Shell came up to the Dome in high winds but at least no rain
Next House visit: Sunday 7th February (EL)
21st January
External visit: Some 26 Friends of Swindon Museum and Art Gallery visited for a double evening combining a visit to 'In the Marlborough Night Garden' with Gavin James and then a trip to the Observatory. Sadly the sky had clouded and only the Moon occasionally got through the cloud. Before the groups came up the sky was clear and Comet Catalina had been located in the 10 inch and a drawing made showing it close to a 9th magnitude star in Draco, several degress away from its position on Tuesday
19th January
Comet spotting: A clear night at last and the chance to see Catalina. The 10 inch found it straight away with coordinates input. Finding it in the binos was harder and needed the old technique of finder charts, A small group of Friends and staff gathered in advance of the GCSE observing session. The 9-10 day old waxing Gibbous Moon really washed out the sky and the Comet was not much more than a faint blur. Some assymetry was visible suggesting tails. Seen against a couple of faint stars the motion was perceptable over 3 hours and was estimated to be 1-2 arc minutes. It was good to be visited by a couple of past GCSE astronomers too
GCSE Observing: 10 Remove astronomers came up, some not in very warm clothes as temperatures dropped to -5 degrees. Constellaon drawings were completed. Sadly the Moon was very close to Orion, Only one Hundred astronomer appeared and managed 3 Messier drawings though again the mMoon rendered M42 and M45 less than perfect
17th January
House visit: 11 Shell pupils from BH came up to the Dome. It was cloudy
Next house visit: Sunday 31st January (TU)
16th January
Stargazing Event: CEB assisted at Oxford Astrophysics Department's annual Jnauary Stargazing event. Some 1300 visitors were entertained in the Department from 2pm till 10pm
14th January
GCSE Observing: NMA and DGR were at the observatory and a number of Remove came up to continue Constellation drawing. Sadly Hundred pupils had mocks the next day
Astrophotography exhibition: Some 60 Friends and visit0rs attended the private viewing of Gavin James' 'In the Marlborough Night Garden'. A stunning array of 17 images taken with modest equipment from his garden in central Marlborough
10th January
House visit: 12 Shell pupils from B1 came up to the Dome. The sky was clear until 30 mins before they arived and then clouded over
Next House visit: Sunday 17th January (BH)
7th January
GCSE Observing: DGR gathered a group of 5 Remove astronomers in a short cold clear break to continue Constellation drawing
3rd January
Quadrantids: A small number of optimistic Friend gathered for 40 minutes of clear sky in between clouds. One meteor was seen!
6th December
House visit: 11 pupils from SU Shell came up to the Dome. The sky was cloudy
Next House visit Sunday 10th January 2016 (BH)
More news...